The OpenBuilds ACRO System
The OpenBuilds ACRO System was developed to be the most accurate and cost effective positioning system in its class.

OpenBuilds V-Slot system was incorporated and, therefore, the ACRO System has the unique ability to expand to multiple sizes creating a size configuration custom to your needs. Choose the size that best fits your workshop.

What can you do with an ACRO System?
The ACRO is an extremely versatile modular system that allows for precise positioning of many different mountable tools and attachments.


OpenBuilds ACRO System Specs:
4.5 micron resolution - 30% higher resolution than systems in its class
Z Axis Travel 70mm - (2-3/4") manual adjustable Z axis length
Available in Industrial Black or Sleek Silver
Attachment Plate includes mounting holes for multiple attachments & tools
Quick assembly time

Bundle Includes:
All Needed Hardware
Solid V Wheel Kits
Versatile V-Slot Linear Rail
Bundle doesn't include:
Slot Covers
Any Tools
Limit Switches
Wiring
Laser
Options:
(3) NEMA 17 Stepper Motors
(1) 24V Power Supply Bundle
(1) xPRO Driver Board
More Information on OpenBuilds
Software:
Details:
Build Instructions, Helpful Videos, Community Support: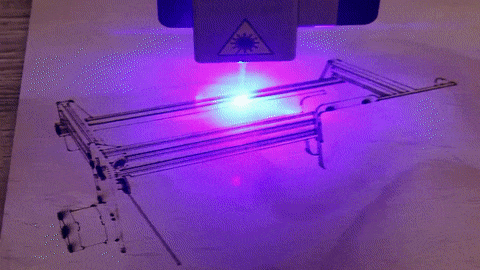 Laser Diodes can be attached to the ACRO system mounting plate!
Laser Diode (Not Included):
Please note: There are lot of great choices when it comes to laser diodes so be sure to pick the right one for your application. Power choice is important as well as making sure your diode supports PWM.
The ACRO Diode Mounting Plate hole pattern is designed to accommodate many available diodes. If the diode you choose has a different mounting pattern you can easily drill holes in the acrylic to mount.
Always wear laser eye protection & take all necessary safety precautions.

AFFORDABLE - OpenBuilds budget friendly parts allow Builders the opportunity to freely create.
EASY TO BUILD - With the V-Slot Modular Framing System and OpenBuilds Build-Along Videos, assembly is quick and easy.
OPEN SOURCE - The Builder community is encouraged to modify and build on this design. We are excited to see what you attach to your ACRO System and the things that you make!
CUSTOMIZATION - Take it to the next level and make it your own! Share your builds with the Open Source Builders community OpenBuilds.com.