More info
The Sphinx is a super strong and accurate easy to assemble CNC machine. It takes advantage of the inside tracks of the C-Beam linear rail using Xtreme Mini Solid V Wheels and utilizes the top of the rail with full size Xtreme Solid V wheels.
Many thanks go out to OpenBuilds member Kyo for sharing this awesome open source design!
Sphinx Machine Specs: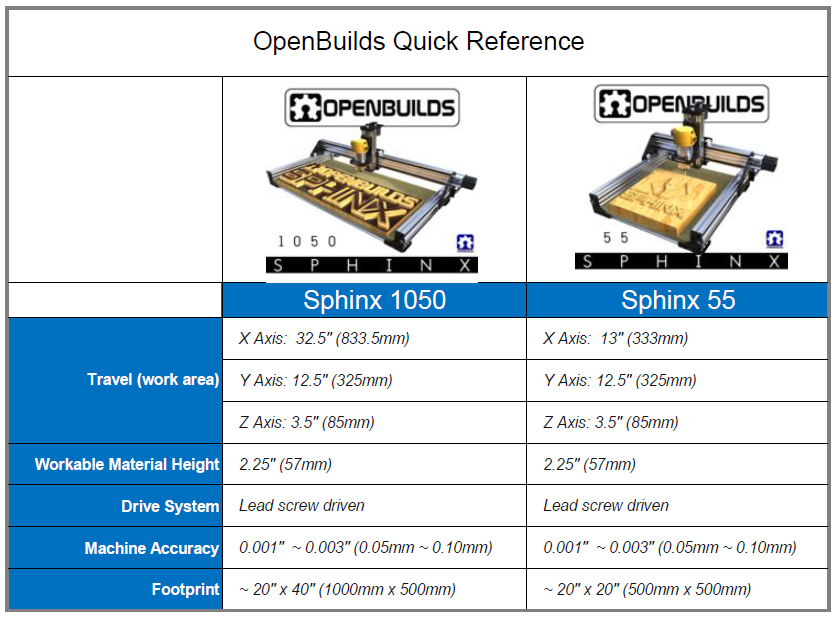 Compatible Material for Cutting/Milling:
Aluminum
Oak
Plexi Glass
Delrin
HDPE
Foam
Bundle Contents:
All Needed Hardware
Versatile V-Slot Linear Rail & Super Strong C-Beam Linear Rail
Xtreme Solid V Wheel Kits ready for heavier duty applications
8mm Metric Acme Lead Screws which makes this machine a power house
Options:
Control Electronics: CNC xPRO V3 or a set built with a Crowduino card (Arduino compatible), a CNC Shield V3.51 GRBL (Official Protoneer Release, GRBL 0.9 and 1.1 compatible), 3 stepper drivers DRV-8825 (could require a fan)
AMB (ex Kress) Router 1050W
Software:
Details:
OpenBuilds Part CAD Models and Drawings
Although the original Sphinx and the OpenBuilds Sphinx may look similar the OpenBuilds Sphinx incorporates many changes that make it unique in its own way, so be sure to follow the OpenBuilds Build Video for assembly.
The M5 hex locking nuts shipped are not black.
Build Instructions, Helpful Videos, Community Support: